Learn to grow your company by building your marketing in the right order.
We are looking for business owners that want advice on how to look more professional online, so they can grow their sales and become an authority in their industry.


Bear Wade will review your creative, review your brand messaging, provide tips for improving your website, and provide actionable marketing guidance.
Subscribe to our podcast!
Unify Your Marketing Show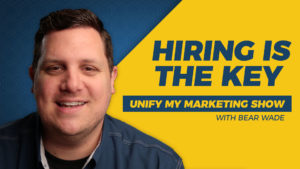 Hiring help – Unify My Marketing S1E6 https://youtu.be/qeBcd6uB1QM Are you the CFE in your business? The Chief of Freaking Everything? From doing the marketing, taking the calls, closing in sales up to finances? One thing is for sure, it's overwhelming! But let me tell you this: it's okay to hire some help. In this video,
Read More »
WORK THE UNIFY BRAND STEPS FASTER    |    Get marketing advice you can easily apply to your business.
*By clicking "Sign Up!" you are agreeing to the Bear Wade & Unify Creative Agency Terms of Use and Privacy Policy.